The Republic of Consciousness Prize for Small Presses has announced its 2018 shortlist in Manchester on 19 February. Returning for the second year in 2018, the prize rewards independent publishers from the UK and Ireland that take the risk to publish brave and bold literary fiction.
Attrib. and other stories by Eley Williams (Influx)
Blue Self-Portrait by Noemi Lefevbre (Les Fugitives)
Darker with the Lights On by David Haydn (Little Island Press)
Die, My Love by Ariana Harwicz (Charco Press)
Gaudy Bauble by Isabel Waidner (Dostoevsky Wannabe)
We That Are Young by Preti Taneja (Galley Beggar Press)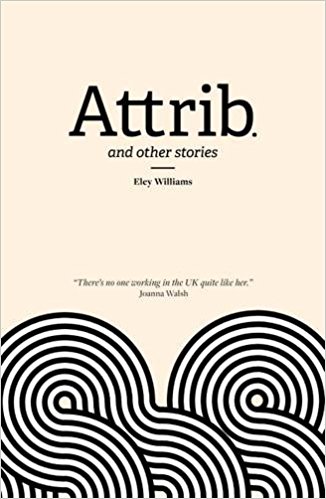 Founded by the award-winning novelist Neil Griffiths, the prize rewards a work of literary fiction – a novel, a translation, or a collection of short stories – by a single author of any nationality. It is open to publishers that have no more than five full-time employees.
Neil Griffiths said: "This is a bold and surprising, almost flamboyant, shortlist. I love that two of the presses are less than two years old, and that without design we have novels, translated fiction and short stories represented. Every shortlisted work has flown over our impossibly high bar of 'hard core literary fiction and gorgeous prose' with its own unique style."
At a time when there is widespread concern about literary fiction – an Arts Council England report recently found print sales of the genre significantly below where they were in the mid-noughties – small presses are showing unrivalled confidence. Latest figures from Inpress, which works with 60 of the smallest players in the industry, revealed sales were up 79% in the last year.
Each press on the shortlist receives £1,500 – to be divided 2/3 to the press, 1/3 to the writer. The winner receives an extra £3,500. The jury of 12 consisted of booksellers – from bookshops in Birmingham, Edinburgh, London, and Manchester – to book reviewers and readers, alongside a contributor to the TLS.
The winner will be announced on 20 March at the University of Westminster, London.
Join the conversation and find out more at: www.republicofconsciousness.com
For all media enquires please contact Daniel Kramb at FMcM Associates on 0207 405 7422 or danielk@fmcm.co.uk
About the 2018 shortlist
CHARCO PRESS focuses on finding outstanding contemporary Latin American literature and bringing it to new readers in the English-speaking world. Founded in 2017, they are based in Edinburgh.
Ariana Harwicz was born in Buenos Aires, and studied in Argentina and Paris. Die, My Love is her debut novel, and was named best novel of 2012 by the Argentinian daily La Nación. It is currently being adapted for theatre in Buenos Aires and in Israel.
DOSTOEVSKY WANNABE are Manchester-based publisher doing things differently. Inspired by the tradition in independent music of self-releasing records, they are breaking the taboos around vanity presses through a collaborative model of publishing that empowers the authors, with all the beauty of their expert design eye.
Isabel Waidner is a writer and cultural theorist. She is the author of three books of innovative fiction, and the editor of Liberating the Canon: An Anthology of Innovative Writing (Dostoyevsky Wannabe, 2018). She is a lecturer in English and Creative Writing at Roehampton University.
GALLEY BEGGAR are a Norwich-based publisher of great literature. The success of their publication of Eimear McBride's A Girl is a Half-Formed Thing in 2013 has been held up as an example of the best of small press publishing, and they continue to break the mould year after year.
Preti Taneja is a writer, broadcaster, filmmaker and human rights activist. She is a Leverhulme Early Career Reseach Fellow at Warwick University and an AHRC/ BBC Radio 3 New Generation Thinker. She also writes for the Guardian, Observer, Index, Scroll and the Conversation.
INFLUX PRESS publish stories from the margins of culture, specific geographical spaces and sites of resistance that remain under explored in mainstream literature. Based in East London, they are run by Kit Caless and Sanya Semakula.
Eley Williams lives and work in Ealing. Her writing has appeared in the journals Ambit, Night & Day, The Dial and Structo. She teaches both creative writing and children's literature at Royal Holloway, University of London, where she was recently awarded her doctorate.
LES FUGITIVES was founded by the editor and translator Cécile Menon in 2015. They specialise in translations of contemporary, female, francophone writers, telling stories about strangers, about almost-love, and about solidarity: today and in the second half of the last century.
Noémi Lefebvre was born in Caen, and lives in Lyon. She is the author of three novels, all of which have garnered intense critical success, and is a regular contributor to the respected French investigative website Mediapart and to the bilingual French-German review La mer gelée.
LITTLE ISLAND PRESS is an independent publisher of fiction, poetry and essays. Founded in 2016, it publishes innovative, intellectually ambitious writing from Gloucester. The press won the British Book Design & Production Award in 2017 for its elegantly designed editions.
David Hayden has written for gorse, The Yellow Nib, The Moth, The Stinging Fly, Spolia, The Warwick Review, and the PN Review. He was shortlisted for the 25th RTÉ Francis MacManus Short Story prize. Born in Dublin, he is now based in Norwich, UK, and is currently working on a novel.
About the prize
The Republic of Consciousness Prize for Small Presses rewards independent publishers from the UK and Ireland that take the risk to publish brave and bold literary fiction. The prize is sponsored by the TLS, the University of Westminster, and the Cornwall-based printer TJ International and was awarded a Grant for the Arts by the Arts Council England this year.
The 2018 longlist contained Playing Possum by Kevin Davey (Aaaargh! Press), Sorry to Disrupt the Peace by Patty Yumi Cottrell (And Other Stories), The Gallows Pole by Ben Myers (Bluemoose Books), An Overcoat by Jack Robinson (CB Editions), Die, My Love by Ariana Harwicz, tr. Sarah Moses and Carolina Orloff (Charco Press), Gaudy Bauble by Isabel Waidner (Dostoevsky Wannabe), Compass by Mathias Enard, tr. Charlotte Mandell (Fitzcarraldo Editions), Blue Self-Portrait by Noémi Lefevbre, tr. Sophie Lewis (Les Fugitives), We that are Young by Preti Taneja (Galley Beggar Press), Attrib. and other stories by Eley Williams (Influx Press), Darker with the Lights On by David Hayden (Little Island Press), In the Absence of Absalon by Simon Okotie (Salt Publishing), and The Iron Age by Arja Kajermo (Tramp Press)
About Neil Griffiths
Neil Griffiths is an award-winning novelist. He is the author of Betrayal in Naples, which won the Writers' Club first novel award, and the Costa Best Novel Award-winning Saving Caravaggio. His new novel, As God Might Be, is an epic novel which "deals uncompromisingly honestly with the human complexities of encountering and speaking about God" (Rowan Williams). It is published by the small press Dodo Ink.